Updated July 1, 2015




photo from "The Hound of the Baskervilles," 20th Century Fox

| | |
| --- | --- |
| This website exists to honor one of Hollywood's greatest screen and stage actors: Basil Rathbone. Perhaps best known for his portrayal of Sherlock Holmes in the 1930s and 1940s, Rathbone gave outstanding performances in many, many other films as well. Rathbone also appeared in many plays, and his voice could be heard in numerous radio broadcasts and recordings. | |
| | |
New this month: The Gallery of Sherlock Holmes promotional photos has been completely updated. Page One features photos of Basil Rathbone as Sherlock Holmes. Page Two features photos of Basil Rathbone and Nigel Bruce together as Holmes and Watson. Page Three features photos of Nigel Bruce--most of them as Dr. Watson, but there are also some Nigel Bruce photos from other films.

The schedule of Basil Rathbone films being shown on TV in July is on the Schedule page.

Photo of the Month


Nigel Bruce and Basil Rathbone as Sherlock Holmes and Dr. Watson


In honor of Basil Rathbone's 123 birthday, Jaime Gabaldà Méndez has drawn this cartoon of Basil Rathbone as he appeared in Casanova's Big Night. Jaime's description of the drawing is below.

The story takes place in the Republic of Venice. The time, 18th Century. The year, 1757. This is one of famous Venice water canals and sailing across them, the gondola of Casanova and on the top in a flag the coat of arms of the famous tempting Casanova. Inside the gondola, there is the real playboy and womanizer Casanova (Vincent Price), sitting and hiding behind the blue curtains of the gondola and showing his face after removing his mask. He is winking an eye to us like saying: "Do not be confused ladies and gentlemen, I am the real Casanova!"

On the deck of the gondola, there is the tailor and hero of the movie, Pippo Popolino (Bob Hope) as the love-happy tailor's apprentice who is suddenly compelled to pretend to be the great duelist and heart-breaker Casanova impersonating him when the real Casanova tries to escape from his greedy creditors. "Both" Casanova are wearing the same rich and luxurious clothing and jewels. The red period coat worn, the three-cornered hat and the colored vest, so "two" Casanovas in the same outfit. The real and the false. Pippo is singing one romantic serenade. Besides him, his faithful companions of adventures. The widow Francesca Bruni (Joan Fontaine), a grocery merchant that at the end of this story will be the real love of the tailor's apprentice and Lucio (Basil Rathbone), the valet de chamber of real Casanova who helps the tailor training him to act and speak as the real Casanova and teaching him every trick of the trade. In the drawing, Basil is playing the mandolin, accompanying Pipo's serenade in one of the most delicious and comic charm moments of the movie. Of course, with the sound of Basil's mandolin and the false Casanova's voice all the women fall (literally) at Pipo's feet.
Features of this website: Click here for a description of the icons in the left column, and a guide to the pages of this website.
.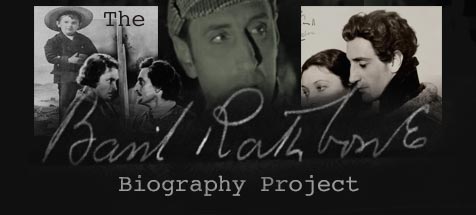 Learn about the Basil Rathbone Biography Project

A Study in Scarlet

The Hound of the Baskervilles

Now available on Kindle:

Four Sherlock Holmes novels, illustrated by Nick Reekie. Features black and white drawings of Basil Rathbone and Nigel Bruce.


The Sign of Four

The Valley of Fear

The fourteen Sherlock Holmes films with Basil Rathbone and Nigel Bruce were released on Blu-ray on March 29, 2011.

Basil Rathbone: His Life and His Films is once again available to buy!

Michael Druxman's biography of Rathbone is well-researched and well-written--a "must have" for every Basil Rathbone fan. The book traces the fascinating life of the actor and provides detailed descriptions of all of Rathbone's films, including cast, credits, critics' reviews and production notes. Out-of-print for more than thirty-five years, Michael Druxman's book is once again available for purchase. This new reprint edition mirrors the original 1975 biography/filmography, including its more than 250 rare photographs, and also contains a new Introduction by the author.

Buy it at Amazon.com.

Also by Michael Druxman: Rathbone, a one-person play in THE HOLLYWOOD LEGENDS collection.

Order from Amazon

Sherlock Holmes & the Fabulous Faces: The Universal Pictures Repertory Company is a tribute to the men and women who were part of Universal's repertory company. Author Michael A. Hoey discusses the lives and careers of the many character actors and actresses who supported Basil Rathbone and Nigel Bruce in the 12 Holmes films made at Universal between 1942 and 1946. These players graced hundreds of films with their diversified performances.

Michael A. Hoey is a film and television writer, director and producer. He is also the son of British actor Dennis Hoey, who played the unforgettable Inspector Lestrade in Universal's Sherlock Holmes series.

Order from BearManor Media or Amazon.com.

Check out this wonderful video montage of Basil Rathbone as Sherlock Holmes, made by Julie, the Ravin' Maven of Classic Film.

Spotted on YouTube: Someone with way too much time on his or her hands has recreated the final duel between Robin Hood and Sir Guy of Gisbourne (from The Adventures of Robin Hood) using LEGO figures! It's very cleverly done. Click here to see it (opens in new window).
You can search for particular words or phrases using the search tool below.
Links to film reviews can be found on the Films page. Reviews without pictures are old ones to which I plan to add pictures as soon as possible.
How much do you know about Basil Rathbone? Try to solve my Basil Rathbone Crossword Puzzle!
Click here to read the 1918 newspaper citation concerning the award of the Military Cross to Basil Rathbone.
Visit the Potpourri section of this site for "Ode to Basil" and other poems written about Rathbone, as well as "Leaving Baker Street" -- an article by Andy Demsky.
Tell Turner Classic Movies what Rathbone films you'd like to see. Write to:
Charlie Tabesh (charles.tabesh@turner.com )
Vice President of Programming
Turner Classic Movies
1050 Techwood Drive
Atlanta, GA 30318

This page was created by and is maintained by Marcia Jessen.
All original content is © Marcia Jessen, 2015.

I'm happy to receive your comments or suggestions by e-mail, but please put something in the subject line to indicate that your message is a Rathbone-related question or comment. Like many other people, I am inundated by junk mail. I will not open e-mails with nothing in the subject line, or something like "Hi," "Hello," or "Hi there."
Thanks,
Marcia

Comments or suggestions?
E-mail me!

Do you believe you have received a virus or other objectionable e-mail (porn, spam) from me? Please click here and read before you e-mail me to complain.
Acknowledgments
I am deeply appreciative of the many people who have given me information about Basil Rathbone, shared personal stories, inspired me, and helped me build up my Rathbone collection. Among them are David M, Greg, Joanna, Simon, Debbie, Mary, John, Lisa, David C, Anthony, Neve, and Anna.. Many THANKS for all you've done and continue to do!
Buy Basil Rathbone films at Amazon.com