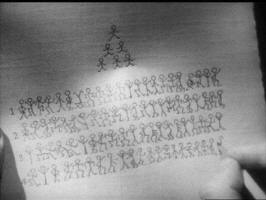 Sherlock Holmes and the Secret Weapon was the first film in the Rathbone/Bruce series to be directed by Roy William Neill, and also the first with Dennis Hoey as Lestrade. The film was originally titled "Sherlock Holmes Fights Back." The credits at the beginning state that it is based on Conan Doyle's story "The Adventure of the Dancing Men." The only thing that Conan Doyle's story and this film have in common is that Sherlock Holmes broke a code made up of stick figures ("dancing men"). Whereas the Conan Doyle story concerned the murder of an English gentleman by a gangster from Chicago (who used the code to communicate with his ex-girlfriend, now the gentleman's wife), the film "Sherlock Holmes and the Secret Weapon" concerns Professor Moriarty's attempts to get his hands on a revolutionary new bomb site developed by a Swiss scientist, Dr. Tobel. The story takes place during World War II.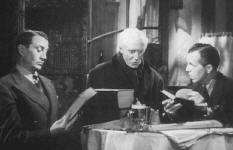 In a Swiss restaurant an old bookseller (Sherlock Holmes in disguise) sits down with two men from the Nazi Gestapo and talks to them about capturing Dr. Tobel for the Führer. The Nazis are expecting Tobel to leave his house with the old bookseller, so Tobel's two servants, disguised as the bookseller and Tobel, leave, luring the Gestapo away. Thus the way is clear for Holmes and Tobel to escape back to England with Tobel's bomb site.
When Tobel and Holmes arrive at 221B Baker Street, Holmes calls Sir Reginald Bailey about the bomb site testing. Holmes asks Watson to keep an eye on Tobel while he meets with Sir Reginald. Although Holmes has warned Tobel that he isn't safe, Tobel doesn't seem to believe it, or care. Watson falls asleep and Tobel leaves to visit his girlfriend Charlotte Eberli.
While at Charlotte's apartment, Tobel makes a curious drawing of dancing men. He puts it into an envelope asks Charlotte to deliver it to Holmes if anything should happen to him. As he leaves the apartment he is assaulted, but a nearby policeman rescues him. When Tobel returns to Baker Street, Holmes demonstrates his cleverness at deducing that Tobel has been with a woman. He asks Tobel not to disobey him any more.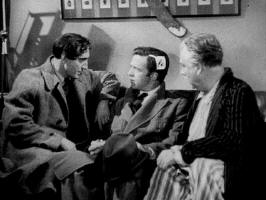 The next morning, Tobel demonstrates his bomb site. Sir Reginald is thrilled and wants to begin production immediately. Tobel will not give up the secret, however. He offers the bomb site to the British government but insists on supervising manufacturing himself; no one else will know the secret. He does not want police watching him because it will attract attention. The government complies with Tobel's wishes because he is Swiss and under no obligation to give the bomb site to the British.
Tobel divides his bomb site into four parts, each of which is meaningless without the others, and gives them to four scientists with instructions to reproduce his own part in quantity. No one but Tobel knows who has the four parts; these are the names written in the "dancing men" code. Then Tobel mysteriously disappears.
When Holmes learns that Tobel is missing, he visits Charlotte Eberli, and she gives him Tobel's envelope. It contains the message "We meet again, Mr. Holmes!" Charlotte is puzzled and tells him about the dancing men. She says no one has been in the apartment except an electrician who had "eyes like a snake." Holmes knows that the "electrician" was in reality Moriarty.

In the guise of a murderous lascar who was once in Moriarty's employ, Sherlock Holmes tracks down Moriarty in Angel's Court.
| | |
| --- | --- |
| Moriarty: | My men have instructions to bring anyone here who inquires for me. They haggle while I watch. An admirable disguise by the way; it fooled them completely. Of course it didn't fool me. |
| Holmes: | I never intended that it should. I meant only that it should bring us face to face. |
| Moriarty: | Just like old times, eh?. a battle of wits, of superior intellects. I may say I have been expecting you since I made off with your precious Dr. Tobel. |
| Holmes: | And his code. |
| Moriarty: | Ah, yes, and his code. But valuable as your doctor and his code are to my business, I think my main interest in this affair is the chance it gives me to battle with you again. |
To eliminate Holmes, Moriarty forces him to get into the false bottom of a sea chest, which then will be dumped overboard from a ship as soon as it's out of sight of land. Lestrade and Watson, who are outside keeping watch notice two men are staggering under the weight of the sea chest, and stop them, rescuing Holmes.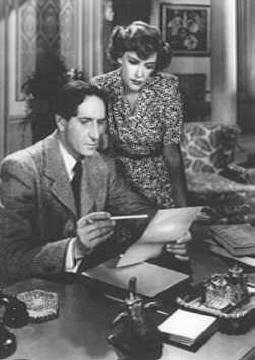 Having learned that Moriarty plans to sell the bomb site to the Nazis, Holmes returns to Charlotte Eberli's apartment to find some clue to the "dancing men" message, which would reveal the names of the four scientists who have parts of the bomb site. He takes the tablet upon which Dr. Tobel wrote his message, and is able to make the message appear on the second sheet by soaking the page in a chemical solution. Watson recognizes the symbols as an alphabet substitution code. Holmes explains that the code is more complicated than that. He's able to decipher the first three names and addresses, but the fourth one doesn't fit the code. Moriarty has also broken the code for the first three names, and murdered those scientists. Holmes manages to break the code for the fourth name before Moriarty. By the time Moriarty's gang gets to Frederick Hoffner's house, Holmes is there in disguise; they kidnap Holmes and bring him to Moriarty. Moriarty tells Holmes that, since he didn't get the crucial fourth part of the bomb site, he will sell Tobel to Germany instead. Moriarty gloats that he will kill Holmes and that no one will be able to find him, not even Scotland Yard. As they sit and discuss what method of execution Moriarty will use on Holmes, Holmes offers his own suggestions.
"Gas, poison, bullets. I assure you, Professor, were our positions reversed, I should have something more colorful, more imaginative to offer. . . . You didn't trap me here. I came here because I wanted to, to prevent your getting Hoffner. And all you can do in return is to commit ordinary murder, to relieve your sense of frustration."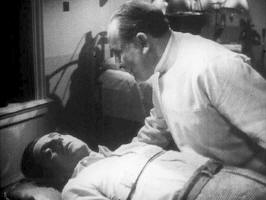 Holmes suggests that he would place Moriarty on an operating table, and draw off his blood, drop by drop until Moriarty dies. So that's exactly what Moriarty decides to do to Holmes.
Meanwhile Watson and Lestrade are on the trail. The real Hoffner attached a leaky can of luminous paint to the undercarriage of Holmes' abductors' car, and it has left a trail of paint spots on the road. They follow the spots to Moriarty's lair, and rescue Holmes just in time.
Everyone in Moriarty's gang is captured, but Moriarty accidentally falls through a trap door while trying to escape, and is apparently killed--again. (Moriarty was apparently killed at the end of "The Adventures of Sherlock Holmes;" he resurfaces in "The Woman in Green" and plunges to his apparent death at the end of that film as well.)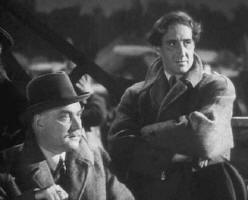 At the end of the film, as Holmes and Watson watch the take-offs of planes equipped with the new bomb sites, Watson remarks, "Well, this little island is still on the map." In his closing patriotic speech characteristic of these wartime Sherlock Holmes films, Holmes responds with a quote from Shakespeare: "This fortress built by Nature for herself . . . This blessed plot, this earth, this realm, this England" (Richard II, Act II, Scene 1).
The "Dancing Men" code in the Conan Doyle story "The Adventure of the Dancing Men" was a simple alphabet-substitution code in which each letter of the alphabet was represented by a different stick figure. Holmes needed several messages in code in order to decipher it, and some of the letters were guessed at. (Holmes would say they were logical deductions.) He explained it to Watson and Inspector Martin, who were amazed. In the film, Dr. Tobel wrote important information in "Dancing Men" code on a single sheet of paper and made it more complicated than the simple alphabet-substitution code, believing that only Holmes would be able to solve it. (Moriarty was able to solve it, too.) Holmes hardly had to think about the code. He just looked at the figures and started calling out letters. Even the simple alphabet-substitution code isn't THAT simple, and cannot be broken with only one sample. The Conan Doyle story was more realistic and believable.
In spite of the incredible code-solving, the film is suspenseful and very entertaining. Rathbone enjoyed the opportunity to wear several disguises: a Swiss bookseller, a suspicious-looking "wharf rat," and a bearded scientist. The scenes between Rathbone and Atwill are especially engaging. Atwill is positively fiendish as Moriarty.
In The Films of Sherlock Holmes, Chris Steinbrunner and Norman Michaels state: "A baffling bit of casting in Sherlock Holmes and the Secret Weapon was the use of splendidly saturnine Henry Daniell, . . . here in the brief role of a Scotland Yard man in the final car pursuit of the Professor." (The Films of Sherlock Holmes, by Chris Steinbrunner and Norman Michaels, Citadel Press, 1978, page 99.) I watched the final car pursuit scene carefully and didn't see Henry Daniell. Although it's difficult to see all the bit players' faces clearly, I do not believe Daniell was one of them. The Internet Movie Database claims to have a complete list of cast and crew for this film, and Daniell is not listed as part of the cast.
More pictures on Page Two.
Cast

Credits

Basil Rathbone...............
Sherlock Holmes
Production Co. ..............
Universal
Nigel Bruce.....................
Dr. Watson
Producer..........................
Howard Benedict
Kaaren Verne.................
Charlotte Eberli
Director...........................
Roy William Neill
Lionel Atwill...................
Prof. Moriarty
Screenplay......................
Edward T. Lowe,
Dennis Hoey..................
.Inspector Lestrade
W. Scott Darling,
Edmund Hartmann
William Post, Jr. ............
Dr. Franz Tobel
Cinematographer............
Lester White
Holmes Herbert..............
Sir Reginald Bailey
Editor...............................
Otto Ludwig
Mary Gordon..................
Mrs. Hudson
Music Composer...........
Frank Skinner
George Burr MacAnnan
...Gottfried
Stock Music...................
Richard Hageman,
Paul Fix............................
Mueller
Hans Salter
Harry Cording................
Jack Brady
Music Director...............
Charles Previn
Leyland Hodgson.........
R.A.F. Air Officer
Sound Director..............
Bernard Brown
Henry Victor...................
Frederic Hoffner
Sound Technician.........
Paul Neal
Harold de Becker...........
Peg Leg
Art Director....................
Jack Otterson
Vicki Campbell...............
Aviatrix
Assoc. Art Director......
Martin Obzina
Paul Bryar.......................
Waiter
Costumes.......................
Vera West
Rudolph Anders (credited as Robert O. Davis)..............................
Braun
Set Decoration...............
R.A. Gausman,
Edward R. Robinson
Philip Van Zandt............
Kurt
Harry Woods.................
man
Gerard Cavin...................
Scotland Yard Man
Guy Kingsford...............
Policeman
George Eldredge............
Policeman
Michael Mark.................
agent disguised as bum
John Burton...................
bit part
Leslie Denison...............
bit part
James Craven.................
Second Officer at test
Images on this page and page two are from the film Sherlock Holmes and the Secret Weapon.
Sherlock Holmes and the Secret Weapon is available on DVD:

Click to order
DVD also available as part of The Sherlock Holmes Collection, Volume 1:

Click to order
Note: Sherlock Holmes and the Secret Weapon is one of the four Sherlock Holmes films that is in the public domain. That means that anyone can legally produce and sell a DVD of this film. Consequently, it's easy to find cheap DVDs of Sherlock Holmes and the Secret Weapon. But these cheap ones are also cheap quality. The links above are for the digitally remastered, high-quality DVDs produced by MPI Home Video. Don't waste your money on anything else!